When it comes to nail care and design, one of the most important decisions you'll make is the shape of your nails. The appropriate nail form can improve the overall appearance of your hands and complement your own style. Your hands are a canvas for self-expression, and your nails are the brushstrokes. Choosing the proper nail form can enhance the beauty of your hands and express your individual style. 
Your natural nail shape is a reflection of your unique personality and style. But with so many different shapes to choose from, it can be tricky to know which one is right for you.
Different Nail Shapes for Your Hands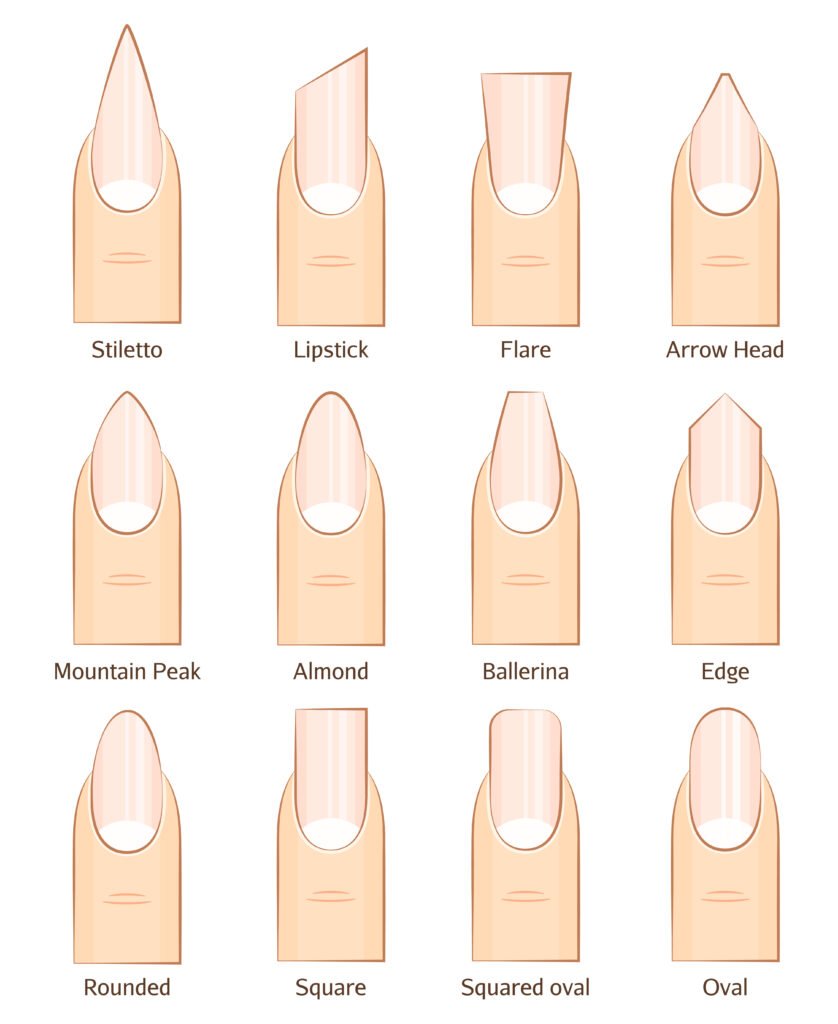 1.

   
Stiletto Nails: Sharp and Elegant
Stiletto nails are long and pointed, just like a stiletto heel. This eye-catching and dramatic shape adds a dash of glitz and confidence to your entire appearance. Stiletto nails are a daring option that can make a strong statement. 
Perfect for: Those with long fingers who wish to sport a dramatic and eye-catching look can wear stiletto
nails.
2.

   
Lipstick Nails: Playful and Unique
Lipstick nails have a tapering shape with a rounded tip that resembles the shape of a lipstick bullet. This colourful and unusual form gives a unique touch to your overall style, making it a delightful choice for people who enjoy experimenting with manicure trends. 
Perfect for: Anyone looking for a distinctive and eye-catching manicure shape can wear lipstick nails.
3.

   
Flare Nails : Distinctive and Edgy
Flare nails are angular in shape and broaden towards the tips. This edgy and striking shape makes a dramatic statement, making it a popular choice among those seeking a distinct and eye-catching appearance. 
Perfect for: People who like dramatic nail shapes and have an eye for avant-garde trends would look good with flare nails. 
4.

   
Arrowhead Nails : Edgy and Sharp
Arrowhead nails are distinguished by their sharp, pointed tips in the shape of an arrowhead. This one-of-a-kind and daring form adds a hint of edge and refinement to your overall look, making it a standout pick for individuals looking to make a statement. 
Perfect for: Arrowhead nails are ideal for those who want to experiment with a unique and edgy manicure shape. 
5.

   

Mountain Peak Nails : Majestic and
One-of-a-Kind
Mountain peak nails feature a sharp, pointed tip that looks like a mountain peak. This striking and magnificent shape lends a touch of grandeur and personality to your entire look, making it an appealing option for individuals who prefer a one-of-a-kind nail style. 
Perfect for: Those looking for a unique and eye-catching manicure design can benefit from mountain peak nails.
6.

   

Almond Nails: Sophisticated
Elegance
Almond nails have tapered sides that continue to a pointy tip and resemble the shape of an almond. This beautiful and sophisticated shape oozes refinement and adds a dash of glitz to your entire look. 
Perfect for: Almond nails provide an attractive and elongating look on hands with long fingers and narrow nail beds.
7.

   

Ballerina (or Coffin) Nails: Elegant
and Eye-Catching
Ballerina's nails are long, tapering, and have a square tip, similar to the shape of a ballerina's pointe shoe. This beautiful and eye-catching form mixes elegance with a modern edge, bringing a touch of sophistication to your overall appearance. 
Perfect for: People with longer fingers who prefer a glossy and striking look will love the ballerina's nails. 
8.

   

Edge Shape Nails: Sleek and
Fashionable
Edge-shaped nails have a sharp, edgy tip that gives them a bold, fashion-forward appearance. This striking shape emanates confidence and provides a touch of edge to your entire look. 
Perfect for: Those who want to use their nail shape to create a bold fashion statement can opt for edge-shaped nails. 
9.

   
Round Nails: Timeless Elegance
Round nails have a semi-circular shape with a slightly curved edge at the tip. This natural and low-maintenance form has a modest and discreet appearance. Round nails are simple to care for and look good on a variety of hand shapes and sizes. 
Perfect for: Round nails are widely attractive and suit most hand shapes.
10.

    
Square Nails: Bold and Contemporary
Square nails feature a flat, straight-across tip that gives them a sleek, modern look. Individuals who desire a striking and edgy appearance prefer this form. Square nails are also less likely to break or chip, making them a good choice for people who lead a busy lifestyle.
Perfect for: Hands with larger nail beds and powerful, angular characteristics look great with square nails.
11.

    

Squoval (Square-Oval) Nails: The
Ultimate Match
Squoval nails blend square and oval features, with a flat tip and gently rounded borders. This harmonious and balanced design provides versatility and a professional look.
 Perfect for: Those who prefer a shape that complements a variety of hand shapes might consider oval nails.
12.

    
Oval Nails: Elegance in Simplicity
Oval nails have a rounded tip that mimics an almond shape. This traditional and timeless form is noted for elongating the fingers and creating a delicate, feminine appeal. Oval nails are adaptable and can be used for both short and long nail lengths.
Perfect for: Oval nails are good for people with small or thin fingers because they create the illusion of length.
CHOOSING THE BEST NAIL SHAPE FOR YOUR HANDS
●     Think about your natural nail shape: Begin by examining the shape of your nail beds. This might provide useful information on
which nail shape will look best on your hands.
●     Consider your lifestyle: If you live an active lifestyle or constantly work with your hands, choose a shape that is functional
and less prone to break or snag.
●     Experiment with shapes: Don't be afraid to test out different nail shapes to see what works best for you. Seek the advice of a skilled nail technician for their professional opinion.
Visit us for your  Perfect NAIL Shape
Visit us if you have any queries regarding nail shape and extensions. Choosing the appropriate nail shape can be a game changer when it comes to personal style and self-expression. Your hands are a blank canvas, and the nail form you choose can enhance your inherent attractiveness while also complementing your individuality.
 Touch & Glow Beauty Clinic is the place to go for expert advice and a touch of artistry in getting your ideal nail form. With their expert professionals and commitment to personalised service, you can rest assured that your nails are in capable hands.